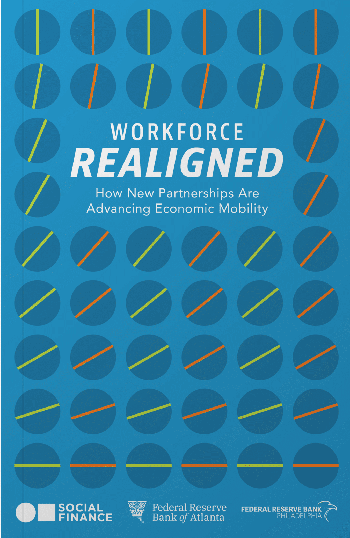 Declining economic mobility is one of the defining challenges of our time. The path to better jobs through good training and workforce programs is narrower now than ever before. But we're seeing a promising response: innovative workforce partnerships that are building more adaptive, results-based models of funding and risk sharing.
These partnerships — often between government agencies, employers, and training institutions — suggest a broader realignment in how we prepare the future workforce. They carefully balance incentives — making sure, for example, that training institutions have a stake in student outcomes or that programs making progress on policy goals have a pathway to scale. They often link funding to results, defining success in advance and measuring progress along the way. And they work to expand access to education and training opportunities while fairly allocating the risks and benefits of training across partners.
Workforce Realigned: How New Partnerships Are Advancing Economic Mobility is a new book from Social Finance and the Federal Reserve Banks of Atlanta and Philadelphia. This book contains 19 case studies and nascent ideas by leaders from government, higher education, business, and social service organizations, including former Speaker of the House Paul Ryan, Massachusetts Governor Charlie Baker, former Federal Deposit Insurance Corporation Chair Sheila Bair, and Virginia Community College System Chancellor Glenn DuBois.
Download and read the full book now. Also included are contributions from a number of experts from the Federal Reserve Bank of Philadelphia:
The Workforce Realigned series includes a podcast and action groups to bring these ideas to life and shift funding toward positive workforce outcomes. Learn more at WorkforceRealigned.org.
Events
Workforce Realigned National Launch Event
June 03, 2021, 12:30 PM – 2:00 PM
The program has concluded. To access a recording of the event, please complete the required fields when prompted.
The national launch event of Workforce Realigned: How New Partnerships Are Advancing Economic Mobility featured a conversation with U.S. Secretary of Commerce Gina Raimondo, Ford Foundation President Darren Walker, and Bank of America Chairman and CEO Brian Moynihan, moderated by Social Finance CEO Tracy Palandjian. Hosted by the Federal Reserve Bank of Atlanta, this virtual event featured remarks from its President and CEO Raphael Bostic, New York Times journalist Nicholas Kristof, and Federal Reserve Bank of Philadelphia President and CEO Patrick Harker. The event explored the emergence of a new breed of cross-sector partnerships — focused on outcomes, aligned incentives, and shared accountability. It also featured an overview of the Workforce Realigned book, the state of American economic mobility, and breakout group discussions.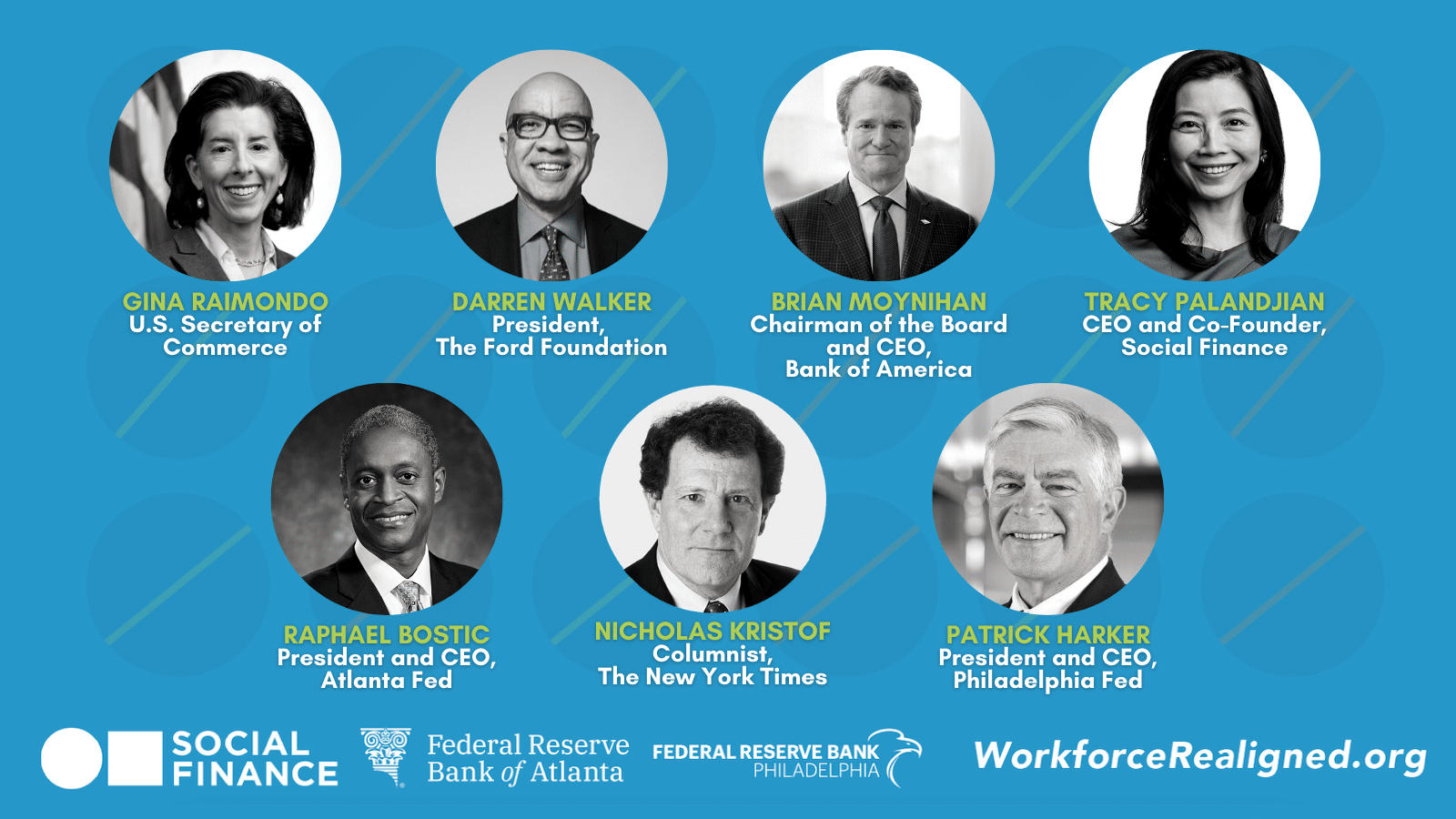 Podcast Series
Workforce Realigned is a special edition of the Economy Matters podcast, which has been produced by the Federal Reserve Bank of Atlanta for more than five years. The Workforce Realigned podcast series features five episodes on innovative ideas about how to reboot economic mobility in America — using new financial tools to accelerate the shift from paying for uncertain training programs to paying for measured outcomes. The series is presented by the Federal Reserve Banks of Atlanta and Philadelphia in partnership with Social Finance.
Download and listen to episodes of this series, hosted by the Philadelphia Fed's Ashley Putnam.