Many colleges and universities are experimenting with innovative financial aid programs to help lower-income students. This CFI in Focus examines a multiyear research project that looks at one such program at the Camden campus of Rutgers University. Researchers in the Community Development and Regional Outreach Department are leading this project at the Federal Reserve Bank of Philadelphia.
Earning a college degree is an important step up the ladder of economic mobility. Yet lower-income students face large obstacles to affording and graduating from a four-year college. In fall 2015, the Camden campus of Rutgers, the State University of New Jersey (Rutgers–Camden), announced plans to implement a last-dollar financial aid program called Bridging the Gap that would eliminate or substantially reduce the cost of tuition and certain fees for in-state students from lower- and middle-income families — students most at risk for failing to enroll in or graduate from a four-year college. The Federal Reserve Bank of Philadelphia is engaged in a multiyear, mixed-methods evaluation of Bridging the Gap to assess its impact on student success and financial well-being.
The study began with interviews conducted with Rutgers–Camden administrators and students who participated in the first cohort of Bridging the Gap. Researchers from the Philadelphia Fed questioned students about the program's impact on their college application process, transition to college, and financial well-being. Qualitative analysis of these interviews provided early evidence that the program was successful at expanding lower- and middle-income students' access to a traditional four-year degree program. However, researchers identified challenges including the difficulty of managing ongoing living and educational expenses beyond tuition. Additionally, many students were unaware of program requirements and struggled to navigate bureaucratic processes, particularly with respect to financial aid. Results of the interviews were compiled into the first Bridging the Gap report, Navigating the First Semester: How Students Get to and Get by in College.
The second report in the series, How Does Last-Dollar Financial Aid Affect First-Year Student Outcomes? Evidence from the Bridging the Gap Study, provides a mixed-methods look at the same cohort's first full year of college. The report combines analysis of enrollment and academic performance data with insights from student interviews to learn more about the impact of the Bridging the Gap program on students' first year of college. Lower-income and African American applicants were significantly more likely to enroll at Rutgers–Camden than in prior cohorts, and students reported diminished financial stress, reduced reliance on student loans, and the ability to reduce work hours. Students were more likely to meet the program's requirements and reenroll in a second year, relative to students in previous years, but this result cannot be directly attributed to Bridging the Gap for lower-income students. In addition, the study echoed something found in prior research: The bureaucratic nature of financial aid programs makes them difficult to implement, and these implementation challenges may mute the program's benefits for lower-income students.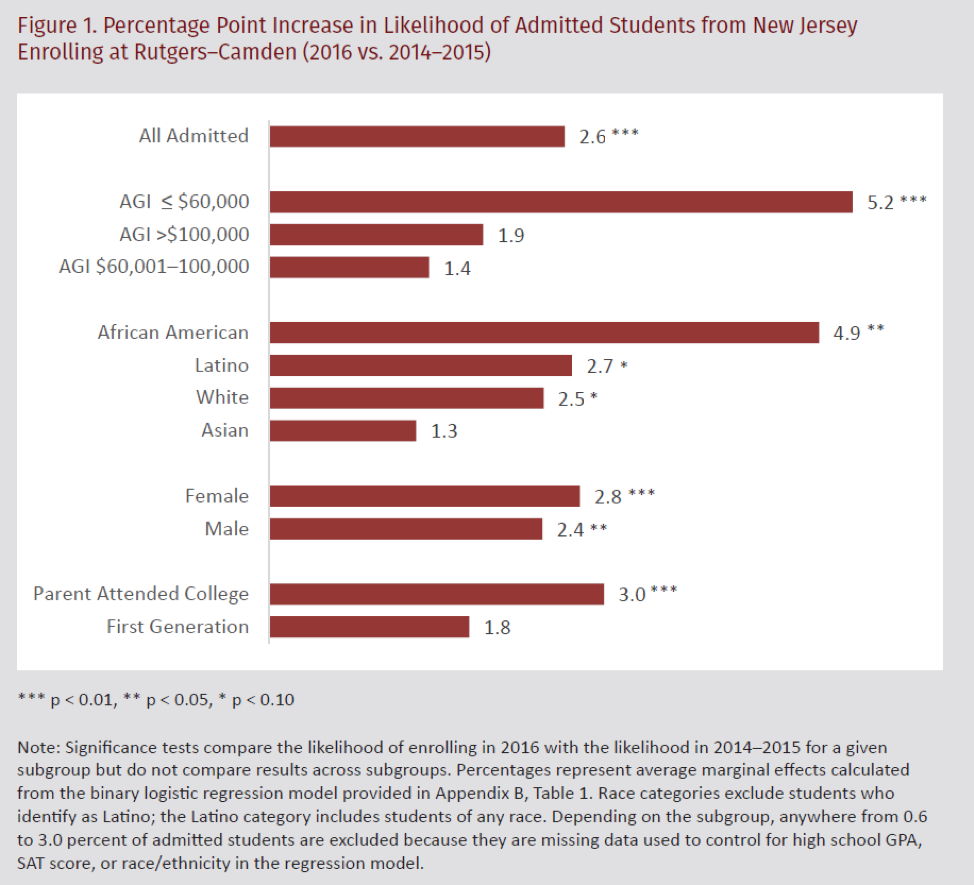 The views reflected in this article do not represent those of the Federal Reserve Bank of Philadelphia.