February 2020 Nowcasts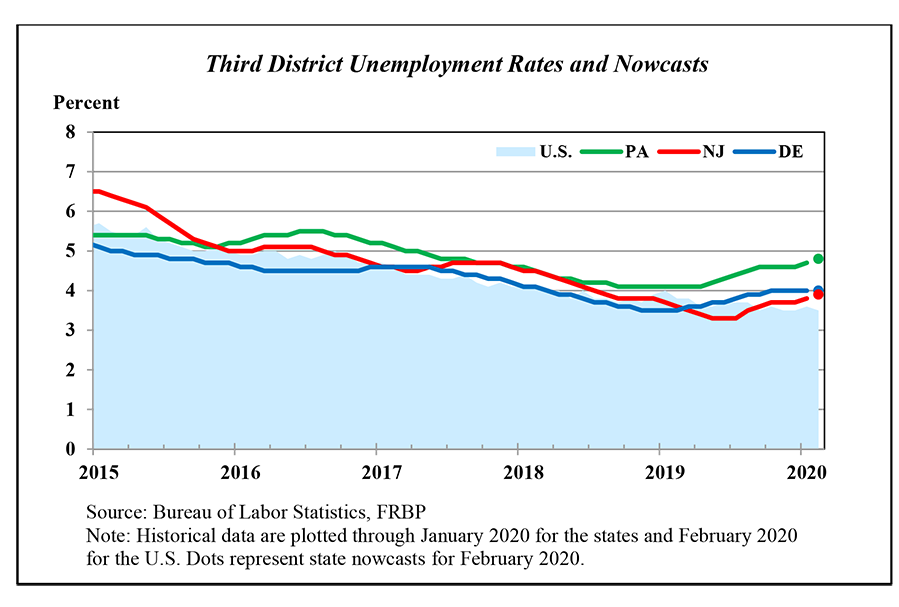 Unemployment rates for February are expected to remain unchanged in Delaware and increase in Pennsylvania and New Jersey, according to the Federal Reserve Bank of Philadelphia's nowcasts.
The Bureau of Labor Statistics (BLS) releases national employment figures weeks ahead of state estimates, which leaves followers of state economies with unanswered questions about the direction of local activity. To alleviate this period of uncertainty, the Federal Reserve Bank of Philadelphia produces regular unemployment rate estimates, or "nowcasts," for Delaware, New Jersey, and Pennsylvania.
During the month of February, the national unemployment rate decreased from 3.6 percent to 3.5 percent.
Using an analytical method created by Bank researchers, we expect unemployment rates for February to remain unchanged at 4.0 percent in Delaware and to increase from 4.6 percent to 4.7 percent in Pennsylvania and from 3.8 percent to 3.9 percent in New Jersey.
Resource
Sen, Elif, "State Unemployment Rate Nowcasts", Research Rap Special Report, October 2010.