It has received notable attention; nearly 200 apprentices attended a graduation event at the House of Commons alongside Barclays line managers and parents. Michael Thompson, director of Early Careers in Personal and Corporate Banking at Barclays Bank in London, shared some observations about the bank's apprenticeship program he oversees.
How did Barclays' apprenticeship program come about?
At the beginning of 2012, the major banks in the UK received a letter from the then-mayor of London, Boris Johnson, challenging them to help tackle rising youth unemployment and develop apprenticeships. At the time, youth unemployment had topped 1 million in the UK. The Work Foundation in the UK published in several reports the results of its project1 that addressed the youth employment challenge, paying particular attention to the "missing million" of unemployed young people in the UK. The project investigated the long-term risks to the economy and young people if rising unemployment levels were not addressed.
In early 2012, Barclays had only 300 employees under the age of 21 in the UK. And, in parts of the bank, large sections of the workforce were approaching retirement age. The lack of young people with digital skills was a concern in an organization facing pressure to modernize and adapt to the digital age. Something had to be done to address a broad societal issue and to reach a challenging demographic.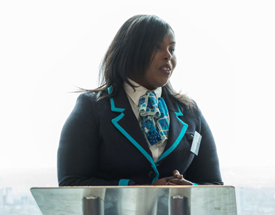 A graduate of Barclays Bank's apprenticeship program in the UK speaks at a graduation ceremony for a cohort of apprentices.
Our response had to be meaningful in scale and impact to tackle the issue of youth unemployment and overcome our own human resource challenges. We had to look at how we could reach those young people who needed the greatest help and how we could do this in a way that led to long-term opportunity rather than short-term solutions. We had to do this at a scale that would quickly rebalance the shape of our workforce. We set a target of 1,000 apprentices by the end of 2013.
We set about learning fast how the apprenticeship system works and how it should be scaled up to support our target audience of young unemployed individuals. Our early insights and experiences demonstrated some of the strengths, but also some inherent weaknesses, in the system.
A fundamental strength was that the significant support and funding of the UK government for apprenticeships opened many doors for support, guidance, and advice and allowed us to get our program up and running quickly and easily. But what was also quickly revealed was that the existing system was not driven by employers and did not provide employers with a great deal of flexibility. The frameworks presented to us were outdated and complex. The funding rules were constrained as to who could benefit from apprenticeships and were complex to understand and administer. Thankfully, recent reforms have made great progress in addressing these issues.
What was the initial focus of Barclays' apprenticeship program?
The early focus of Barclays' program was to bring long-term unemployed young people into the bank's high-volume entry-level positions in branch banking and call centers. When we researched the target audience we were looking at, we quickly realized that we needed to completely change our approach and criteria for hiring. Our traditional requirements of hiring based on previous work experience and academic performance would simply not work for young people who had limited or no academic attainment and who often did not have meaningful work experience.
So we tore up the rule-book and quite literally started again. We removed all academic criteria and the need for previous experience and focused on attitude, aptitude, and motivation to work for us and develop. We moved from a world of online applications and screening to a more tailored "hand-held" supportive recruitment model.
This model was designed to prepare young people for success in their first job interview, typically at Barclays Bank, while recognizing that they were far from the "complete candidate." Over time, this upfront investment in developing soft skills, such as interpersonal communications skills and appropriate dress, has grown to include both classroom-based training and work experience and now forms part of what is the biggest pre-apprenticeship program2 in the UK. Working with young people intensively prior to an interview allows us to create an early bond and identify those who are a very good fit for Barclays and also support those who aren't to find suitable jobs with clients, suppliers, and other companies. The program has led to significant improvements in Barclays' retention levels. In the first 12 months of employment at Barclays, we lose less than 10 percent of new hires compared with over 25 percent previously.
What were the challenges that Barclays' apprentices have encountered?
Perhaps the biggest challenge — beyond the perception/environmental issues, such as being at work on time and dressing appropriately, that inevitably arise when making a change of this magnitude — was managing the expectations of the apprentices themselves. Inevitably, once their apprenticeships are successfully completed and a full-time job is secured, the next question we receive is "What next?" Our apprentices have been very ambitious in career terms and academically, and we have had to work hard to build pathways to meet their needs. We have gone from two high-volume entry-level programs to nearly a dozen higher-level apprenticeship pathways including Corporate Banking, Finance, Wealth Management, and Human Resources.
What are the goals of Barclays' apprenticeship program?
Our goals in creating these new programs have been simple and consistent. The first goal has been to give any apprentice the opportunity to obtain as high a level of academic attainment as possible and also offer those who have not previously succeeded academically a "second chance." The second goal is to foster progression among apprentices in terms of salary and careers. Early evidence suggests that Barclays Bank is succeeding in meeting both goals. A number of apprentices have already moved into the bank's degree programs and progressed to management positions and more senior roles since they joined Barclays with limited or no qualifications.
The wide-ranging reforms of the UK government's trailblazer initiative,3 which encourages groups of employers to carry out changes to apprenticeships, have allowed the financial services sector in the UK to create a range of new apprenticeship "standards" that allow progression to higher levels of skill and knowledge. The first of these was the Relationship Management Higher Apprenticeship, a three-year degree program that includes skills needed to work in corporate finance and wealth management areas. These standards have been developed with professional trade associations and have played a substantial part in raising the bar of UK apprenticeships by aligning them to industry-recognized qualifications. Barclays is currently developing a three-year degree apprenticeship that will build the skills necessary to work in investment banking and management and attract young people who do not want to go to university or do not have the opportunity to do so.
What is the return on investment to Barclays for its apprenticeship program?
Barclays measures its return on investment in a number of ways:
Improvement in retention of employees seen as a result of the program. There are 10 percent fewer losses in the apprentices compared with other employees.
Improvement in a range of diversity measures, including ethnicity, disability, and gender, among our early-career workforce.
Progression of talent into high-level roles as a result of their apprenticeship training. Over 20 percent of apprentices have already progressed to higher skill roles.
What are the lessons learned from Barclays' apprenticeship program?
Over the past three and a half years, we have learned many valuable lessons. The most important of these is the need to challenge traditional thinking, both within an organization and in the larger society. In the past three decades in the UK, recruitment practice has evolved so that it is very difficult for many talented people to obtain employment. This could be due to age, disability, or lack of experience or qualifications. An apprenticeship program provides the opportunity to create pathways for all and, in so doing, helps build more diverse organizations and address societal issues.
The program also offers an alternative to college for those who would prefer to obtain higher-level qualifications through the workplace. Often, very vocational skills, such as information technology, are best learned in a live working environment.
For further information, contact Michael Thompson at mike.thompson@barclays.com or visit http://joinus.barclays.com/emea/apprenticeships.
The views expressed here do not necessarily represent the views of the Federal Reserve Bank of Philadelphia or the Federal Reserve System.
[1]See Neil Lee, Paul Sissons, Brhmie Balaram, and Katy Jones, "Short-term crisis—long-term problem? Addressing the youth employment problem." The Work Foundation, June 18, 2012, available at http://www.theworkfoundation.com/Reports/314/Shortterm-crisis-longterm-problem-Addressing-the-youth-employment-challenge.
[2]This UK program is designed for young unemployed individuals and entails classroom-based learning and work experience during a seven-week period. It is called a traineeship program.
[3]See www.gov.uk/government/publications/future-of-apprenticeships-in-england-guidance-for-trailblazers for details.