Although most of the employment opportunities in this sector have been advanced-skills jobs in start-ups, software and application development, and wearable technologies, there are many IT opportunities that do not fall into these categories. The need for skilled IT employees has increased across many industries. Recent initiatives and reports recognize these opportunities as a means to move entry-level workers into technology-related jobs and to create pathways to the middle class. The technology sector has potential for workers who are disadvantaged or lack bachelor's degrees but retain an aptitude for gaining skills.
Employment in the Technology and Digital Skills Sector
A report from Capital One and Burning Glass Technologies — Crunched by the Numbers: The Digital Skills Gap in the Workforce — details the need for today's workers to have digital skills. According to the report, "Digitally intensive jobs have grown 2.5 times more rapidly than middle-skill jobs that do not require spreadsheets, word processing, or other digital skills …" Considering occupations that require advanced digital skills, such as client management software, coding, and health technologies, the report further notes that "employers pay a premium for this knowledge. Occupations that call for one or more advanced digital skills pay an hourly wage 38 percent higher on average than non-digital middle-skill occupations …"2
As of March 2015, there were more than half a million job openings in IT fields.3 Most of these openings were not in IT-specific industries. Non-IT industries currently employ two-thirds of the private-sector IT workers, with manufacturing, retail, and health-care industries topping the list.4 The need to fill these vacancies has piqued the interest of a variety of sectors, resulting in new approaches to fill these roles. The White House's TechHire Initiative,5 IT Works, and the Urban Technology Project are a few examples of how government, private, and nonprofit sectors are building strategies to train workers and fill jobs. Through partnerships with workforce training programs, employers, and government leaders, these initiatives strive to create better policy and build career pathways for IT workers.
TechHire, for example, was launched in November 2014 in six local and state areas and continues to add new sites. There are now 31 participating areas, with eight more in the works. The participating regions, which collectively account for more than 120,000 technology-related jobs, will use TechHire as a partnership strategy to enable workers to qualify and obtain these jobs. Successful TechHire partnerships use data and innovative hiring practices, expand training models that prepare students in months rather than years, and connect people to jobs through "on-ramp" programs.6
TechHire Initiatives in the Third District
In the Third Federal Reserve District, the city of Philadelphia and the state of Delaware are designated TechHire regions. In Philadelphia, for example, 12,000 IT job opportunities went unfilled because of a lack of skilled, available talent.7 In terms of skills, the greatest need was for developers proficient in Java and .NET.8
Delaware TechHire
To address the skills gap in technology jobs in Delaware, Governor Jack Markell, in conjunction with Delaware TechHire, convened a number of private employers, financial institutions, workforce and economic development organizations, and community partners. As a result, Delaware TechHire launched Zip Code Wilmington in June 2015. Zip Code Wilmington is an accelerated coding school that combines training courses and apprenticeships to fast-track interested workers into jobs in the coding and software development field.9 Some Delaware employers have committed to hiring graduates of the coding school into paid apprenticeships and eventually into full-time positions.
Philly TechHire
Philly TechHire is a coordinated partnership among several entities, including the city of Philadelphia; Philadelphia's Office of Innovation and Technology (OIT); Philadelphia Works, Inc.; PNC Financial Services Group; Comcast; Ranstad Technologies; EventUpon; Technical.ly Philly; PACT; and Seed Philly. The program seeks to identify employer needs and design appropriate and innovative responses. According to Meg Shope Koppel, chief research officer at Philadelphia Works, Inc., Philly TechHire also works with start-up, training, and academic organizations, such as Creating IT Futures, NY Code + Design Academy in Philadelphia, Code for Philly, Tech Impact, Development Bootcamp, Peirce College, and the Community College of Philadelphia. These entities work together to create a community of resources and to expand information on opportunities in IT for candidates and employers. For example, in October 2015, nontraditional IT candidates had the opportunity to use problem-solving and presentation skills in a contest, with the goal of developing a proposal to solve a tech-related issue for the Free Library of Philadelphia. Philly TechHire partners also use internships and apprenticeships to help candidates obtain jobs. With the aid of a $56,000 state grant, for example, Philly TechHire provided internships to 20 adults and 13 youths. In addition, Philly TechHire provided training to 14 workers who received advanced IT certifications and job offers.
As part of the Philly TechHire initiative, the Philadelphia OIT is using existing assets, such as KEYSPOT computing centers, to promote IT jobs and training. Andrew Buss, director of the innovation management group at OIT, notes that "our motive to participate in TechHire is addressing a shortage of technology workers that can fill positions for the growing number of companies in Philadelphia. For this, OIT has turned its focus to training the next generation of workers, youth as young as middle school for this work, and in complementary science, technology, engineering, and math (STEM) fields. The goal is to create a pipeline of skilled workers that have begun to develop the skills and career interest in technology to fill continuing work training pipelines to employment."
Other Approaches and Strategies
Several other organizations are also working with employers to create career pathways that will enable disconnected youths10 to obtain computer technology positions. The organizations incorporate holistic approaches that include apprenticeships or internships, professional mentoring, accelerated IT training, certifications, and direct engagement with local employers. One such organization is Tech Impact.11 This organization, with branches in both Philadelphia and Wilmington, DE, provides hands-on technology support to nonprofits as well as manages workforce development programs. One of the programs, IT Works, is a 16-week immersive program for young adults between the ages of 18 and 26 who do not have bachelor's degrees. The program, which includes 11 weeks of classroom training and a minimum of five weeks at an internship, gives students practical hands-on experience, professional development, and comprehensive soft skills training. Students also can earn several different types of certification (e.g., Cisco IT Essentials Certification, CompTIA A+ Certification). Since 2011, more than 200 students graduated from the program, 70 percent of whom found jobs in the IT sector within six months of graduating. Patrick Callihan, executive director of Tech Impact, notes that students who complete the program earn incomes up to two times more than they did before entering the program.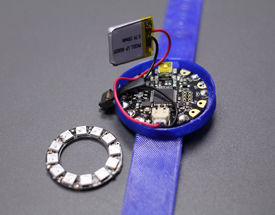 This digital tracker watch was created for City Streets participants by Stephen Pettus, a Temple University student who participates in the Creative Tech Works Design Studio (CTW) program in Philadelphia. Pettus says that the CTW program "taught me how to run a business. Because of it, my partner and I decided to start our own LLC for our tech consulting work." Pettus said that he earns $35 to $40 per hour on consulting projects and has purchased an equity stake in a client's organization.
Photo Credit: Jacqueline Quidort
A second initiative is Creative Tech Works Design Studio (CTW) in Philadelphia, which provides a "makerspace" and apprenticeships for advanced students in engineering and computer science. CTW students build a "stickiness" in STEM fields that extends beyond immediate skills gained. Dr. Jamie Bracey, founder of CTW and director of STEM education, outreach, and research at Temple University's College of Engineering, said that this stickiness increases skill flexibility and future mobility within the tech industry. Young people participate in a 16-week immersion studio with training in product design, programming, engineering, and micromanufacturing. Examples of CTW products include City Street, a civic engagement race competition using wearable technologies, and Fashion Hack, a showcase of apprentice-designed wearable technologies. Program participants have also been involved in consulting projects for the U.S. Navy, DroneCast, and Coders4Africa, and most students matriculate at area colleges.
A third initiative is the Urban Technology Project (UTP), a public–private partnership between Communities In Schools of Philadelphia, Inc., the local affiliate of a national nonprofit that works with underserved students, and the School District of Philadelphia. UTP's goal is to help urban youth explore and enter IT work pathways that lead to the middle class. UTP provides a continuum of service-learning and school-to-work experiences that begins in middle school, continues through high school, and extends into post–high school opportunities. Recent graduates of Philadelphia public high schools can join the Digital Service Fellows, a leading AmeriCorps program. Fellows serve one year in a pre-apprenticeship providing technical support to Philadelphia schools under the mentoring of IT professionals. Upon completion of the program, fellows can apply for the Computer Support Specialist (CSS) Program, a registered apprenticeship. The program, now in its 10th year of accreditation, is the only program of its kind in the state of Pennsylvania. UTP's CSS program is a participant in a $2.9 million apprenticeship initiative grant application submitted by Philadelphia Works, Inc. and approved by the U.S. Department of Labor.
Edison Freire, director and cofounder of UTP, notes that UTP apprentices, even though they don't have a four-year degree, are attractive job candidates because they have up to 5,000 hours of hands-on training and can earn up to three industry standard certifications. UTP apprentices become lifelong learners, acquire problem-solving skills, and develop teamwork and collaboration skills. Freire also says that UTP plans to transition from a single-employer model to a multi-employer model to provide UTP apprentices with a greater number of permanent IT opportunities with private companies.
Engaging Employers
The workforce pathways described previously depend heavily on partnership with employers and flexibility. Success depends on deep engagement from local employers to review and modify hiring and recruitment processes and required credentials to take into account candidates' current skills and future aptitude versus current degrees. At Philly TechHire, employer engagement has been critical to the success of the initiative. Because of the number of current vacancies, Philly TechHire employers are interested in recruiting highly skilled nontraditional workers. Accelerated IT skills training programs can increase the work-ready population with minimal cost to the employers. Employer partners in PhillyTech Hire have seen the value of project-based training and of the opportunity to observe candidates using critical thinking and problem-solving skills. This recruitment strategy also has provided employers with the opportunity to recruit more women and minorities to develop a more diverse workforce.
Employer engagement comes from strategic relationship building between skills training programs and employers. Many of the partners mentioned encourage agencies to build personal relationships and to have significant "face time" with employers as a means of building confidence in their systems and to showcase candidate skills. As part of the recruitment for its internship program, IT Works engages closely with employers to determine the day-one skills needed for entry-level workers and matches the IT Works training program and certifications for these skills. One of the employers is Barclays Bank Delaware.
Future Challenges
Although there has been much success in this field, a number of challenges and barriers remain. Automated human resource processes filter out strong candidates who are skilled but lack the necessary educational credentials. Formal work experience also can be a barrier in the IT field, and apprenticeships can counter this lack of on-the-job IT experience. Philadelphia Works' Shope Koppel emphasizes the need for greater investment from private sources to create relationships between employers and training programs. Since initiatives such as Philly TechHire are being led by the current federal and city administrations, shifts in government leadership may slow momentum on these projects. Employers and program directors must identify ways to make strategic investments to accelerate these initiatives and make them sustainable. As these partnerships and programs mature, it will be important to increase opportunities for young workers to obtain industry-recognized credentials outside of traditional academic settings.
Information Technology Programs Outside the Third Federal Reserve District

There are a number of programs nationwide that are similar to the featured models from the Third Federal Reserve District. Here are some examples.

LaunchCode, based in St. Louis, is dedicated to making pathways to mobility through apprenticeships and placement in technology jobs. Since 2013, LaunchCode's staff has expanded from four to 24, and the organization now has project locations in southern Florida and Kansas City. LaunchCode has also placed candidates remotely in a number of additional cities. Ninety percent of LaunchCode participants had no coding experience before entering the program, and 42 percent of the participants do not have a college degree. LaunchCode reports that, on average, participants increase their salaries from about $21,000 before the program to about $50,000 after the program.

The Chicago program i.c.stars provides low-income young people with a 16-week paid internship immersed in the technology sector. Participants go on to attend community college and are placed with corporate partners, or they join the staff of the i.c.stars social enterprise, which delivers social media management to clients. Eighty percent of i.c.stars participants complete the internship portion, resulting in an average increase in income of $9,000 to $31,000 and a job placement rate of 95 percent.a

Capital One's Future Edge initiative will provide $150 million for community grants and initiatives over the next five years to better prepare citizens for success in a changing digital economy. Part of this process is the recognition of the need for digital skills training for middle-skills jobs. In partnership with educational institution General Assembly, Capital One will create the Capital One Opportunity Fund, a fellowship program that will provide training for individuals looking to gain the advanced digital skills needed to secure high-skilled occupations.b
[a]See Martha Ross, Carolyn Gatz, Richard Kazis, et al., Unemployment Among Young Adults: Exploring Employer-Led Solutions, Metropolitan Policy Program at Brookings, July 2015, available at http://ow.ly/VlwB5.
[b]Visit http://ow.ly/Vocsw for more information.
The views expressed here do not necessarily represent the views of the Federal Reserve Bank of Philadelphia or the Federal Reserve System.
[1]See C. Brett Lockard and Michael Wolf, "Employment Outlook: 2010–2020 — Occupational Employment Projections to 2020," Monthly Labor Review, January 2012, pp. 3–20.
[2]For more information about this report or to download the report, see http://ow.ly/VlhR3.
[3]See TechHire Initiative, available at http://ow.ly/VllVg.
[4]See Ready to Work: Job-Driven Training and American Opportunity, White House, July 2014, available at https://obamawhitehouse.archives.gov/sites/default/files/docs/skills_report.pdf.
[5]See TechHire Initiative.
[6]See TechHire Initiative.
[7]This information was obtained from CEB TalentNeuron's research and analysis, crawling of public profiles, skill predictor algorithms, CEB TalentNeuron Skill Taxonomy, and SME Interviews, unpublished, 2013. This figure is as of 2013.
[8]See Ready to Work, 2014.
[9]See www.zipcodewilmington.com to learn more about the program.
[10]A disconnected youth is defined as a young adult between the ages of 16 and 24 who is neither in school nor employed.
[11]See www.techimpact.org.