Barclaycard US based its program on an apprenticeship program used by its parent company Barclays Bank in the United Kingdom, and is one of the only banks in the U.S. with an apprenticeship program.
Jocelyn Stewart, director of community investment at Barclaycard US, headquartered in Wilmington, DE, said that the bank seeks apprentices between the ages of 18 and 26 who have an aptitude for IT, a positive attitude, and a strong work ethic, but who lack a bachelor's or associate's degree, which is normally required for IT positions.
Employee retention is an issue with many employers and Barclaycard US started the program in hopes of finding "engaged and loyal employees," Stewart said. "In giving them a chance, we thought that this may be a place that they will call home." Indeed, of the 15 apprentices hired in 2013 to 2015, 14 are still with Barclays (one left to relocate with her family in California). Most graduates of the apprenticeship program are working as analysts and technicians, and one is working as a junior Unix infrastructure engineer.
Barclaycard US, which has about 3,000 employees in the U.S., plans to hire another five apprentices in its Delaware office in the fall of 2016. In addition, it plans to develop a similar apprenticeship program that will start by the end of 2016 at its call center in Henderson, NV.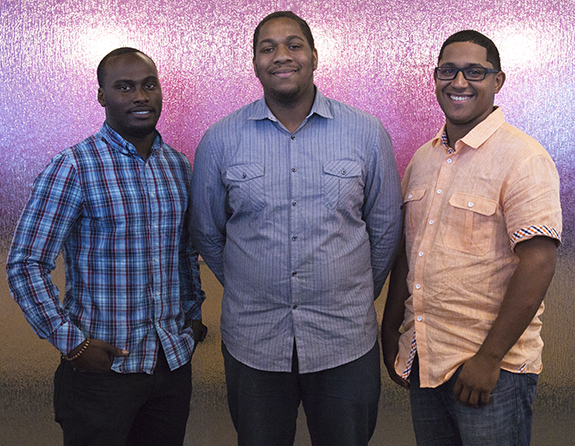 Three apprentices at Barclays Bank Delaware — Prince Yawson, Felton Bruce, and Angel A. Ponce — were interviewed about their experiences in Barclays' apprenticeship program. Bruce said that it was "priceless" and that he would otherwise had been unable to enter the workforce due to a lack of credentials. Ponce learned about the program through the Year Up program at Peirce College in Philadelphia and said that the program was "fun and the work was always changing." Yawson said that it was "a good opportunity to learn and move forward." Bruce and Ponce said they have goals to buy homes in the next few years. All three apprentices are in the process of obtaining IT certifications.
Photo Credit: Jacqueline Quidort
The bank recruits apprentices yearly from partner agencies, such as nonprofit organizations Tech Impact, Wilmington Job Corps, and Year Up, as well as through referrals from current apprentices. Applicants participate in a day-long series of exercises, often in teams, and demonstrate their soft skills, such as communication and teamwork, through a variety of exercises. The day-long event is based on one used by its parent company.
The apprenticeship program begins with job shadowing for two months at the service desk and in other support functions. The apprentices are paid a starting salary and receive benefits from the time they join the bank and become full-time staff members upon completion of the program. The average starting salary is $30,000 to $34,000, Stewart said.
The apprentices start in cohorts, Stewart explained, because "we want to make sure they know each other and have a sense of belonging to a community." A Barclaycard US staff member mentors each apprentice on any work-related and personal issues that may arise, and the bank's community relations team is sometimes enlisted to assist with soft skills. "We have also been successful introducing second-year apprentices to first-year apprentices as a kind of safety net," Stewart said.
Stewart said that the apprentices require a support network because "the benefits and policies in a professional work environment are new to them." For example, staff members help apprentices understand health and 401k benefits and policies.
The program, said Stewart, has also had a broader positive effect on the bank and is "a source of pride" for many employees. She added: "These young adults come in every day ready to learn and prove themselves and are an inspiration to the other colleagues. They provide a fresh perspective and display a grateful attitude, which contributes to a more positive work environment for all employees."
For information, contact Jocelyn Stewart at JSutton@barclaycardus.com.
The views expressed here do not necessarily represent the views of the Federal Reserve Bank of Philadelphia or the Federal Reserve System.