The 2022 ROC Cohort Program focuses on an equitable workforce recovery. During the yearlong program, 11 communities from 10 states across the country will engage in racial equity and workforce trainings, peer learning, and personalized coaching and advising, leading to the development of local workforce equity plans. The program will help them apply racial equity solutions to strengthen regional economies and foster better economic outcomes. This year's partners include the Federal Reserve Banks of Boston, Cleveland, Atlanta, St. Louis, Minneapolis, Kansas City, and San Francisco.
Meet this year's participating communities
The 2022 cohorts represent communities from eight reserve bank regions.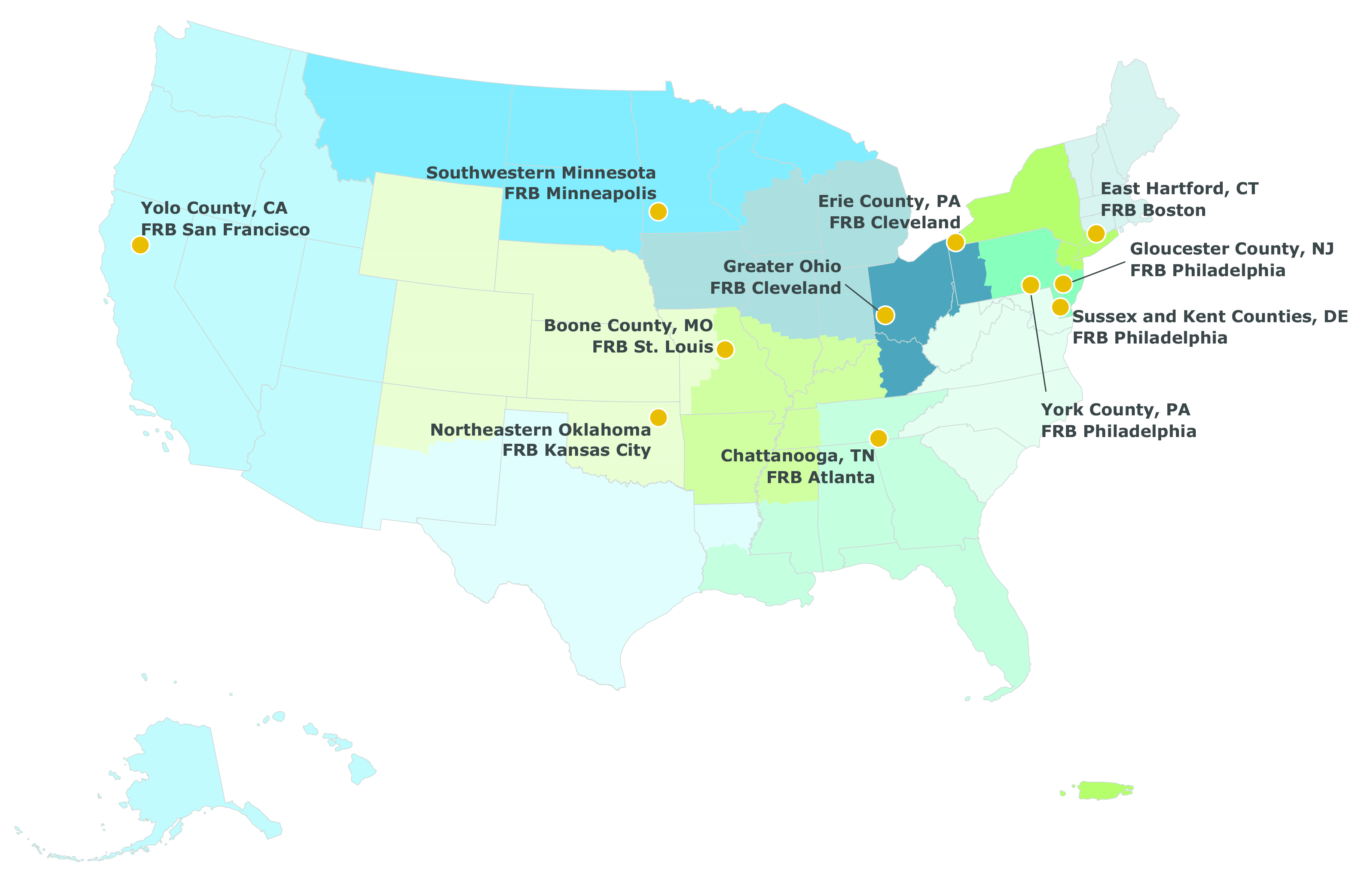 View recordings and presentations from recent trainings
Workforce Development Overview
This session provided an introduction to the lexicon and the various models and pillars that are being applied across the country to support workforce development. Detailed information was provided to illustrate different funding streams and types of workforce development programs, as well as standard eligibility requirements and programmatic limitations. This class addressed the role that employers can play in supporting workforce development and provide an explanation of challenges that employers and workforce development providers have encountered. Specific attention was given to the unique workforce challenges faced by smaller municipalities as well as rural towns.
Ensuring Quality Jobs
This session addressed the importance of ensuring that workforce development programs lead to employment in jobs that pay living wages and offer upward mobility. Details were provided about historical practices and attempts, as well as what's working and what isn't. In addition, the session addressed the differing needs when working with populations who are entering the workforce and need to develop career skills and experience, versus working with populations who have work experience but seek a career pathway that offers upward mobility and economic opportunity. Last, the course addressed worker protections and policies.
Programs for the Hardest to Employ and Wrap-Around Supports to Ensure Success
Different models and emphasis need to be applied to different populations to meet their unique needs, especially when it comes to individuals that face severe barriers to employment and are considered "hard to employ." This session addressed the needs of such populations, barriers that they face in acquiring and retaining quality jobs, and services that must be provided to ensure they succeed.
Amplifying the Connection Between K–12 and the Larger Workforce System
This session provided an overview of the importance of professional development and career readiness as part of the education and development of young people. Various models — both in-school and out-of-school — were described, along with the challenges and successes of each to date. The session also included a presentation on the Occupation Mobility Explorer.
Investing in and Preparing for a Prosperous and Equitable Future
This session addressed the competing interests and needs of attracting and retaining talent to foster inclusive growth in rural or small geographies. Long-term inclusive prosperity and economic resilience require a comprehensive approach to building industries that will create and sustain quality jobs. This session provided insights into how cities can move toward a local economy composed of diverse, quality options by prioritizing industries that are clean and green, that ensure diversity, and that support the health of small businesses. The discussion of the connection between K–12 education and the larger workforce system was continued in this session.