The 2021 ROC Cohort program focuses on equitable small business recovery after the COVID-19 pandemic through the lens of racial equity. Over 10 months, nine cohorts spanning communities across the U.S. will engage in equity-focused training and peer-to-peer learning and receive personalized support in developing their local small business recovery plans. The program will help them to explore structural racism impacting small businesses owned by people of color in their community and plan for a more equitable recovery. This year's partners include the Federal Reserve Banks of Atlanta, Minneapolis, Richmond, and San Francisco.
Meet this year's participating communities
The 2021 cohort includes communities representing various corners of the country. Download detailed profiles and data sheets to learn more about each community.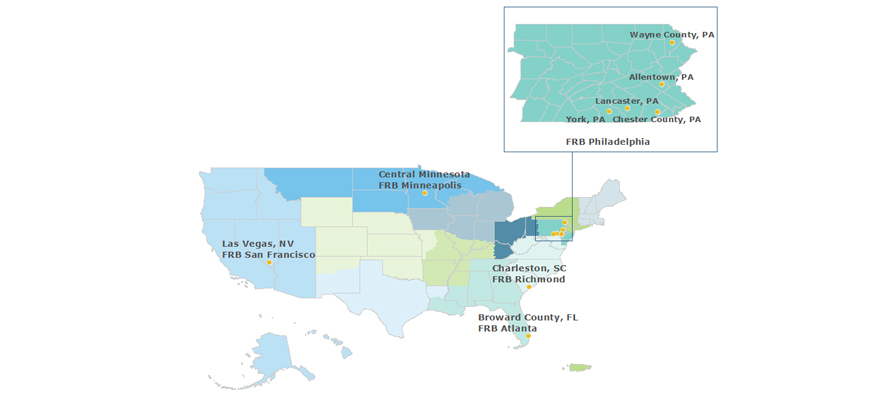 Explore resources on racial equity, small business recovery, and more
View recordings and presentations from recent trainings
Overview of Equitable Small Business Recovery, September 30, 2021. This session provided an introduction to the various models and pillars that are being applied across the country to support small businesses. Detailed information was provided to illustrate the diversity of characteristics and needs of small business owners of color and to highlight the different approaches that will be necessary to support the growth of small businesses, depending on industry, size, longevity, and other characteristics. The presenters, Charisse Conanan Johnson, managing partner at Next Street, and Jenn Steinfeld, director of entrepreneurship and economic development at National League of Cities, shared data on national small business trends, interventions, best practices, and lessons learned, incorporating information related to each of the four main topics to be covered in the ROC training.
Financing and Access to Quality Credit for Small Business Owners of Color, October 14, 2021. This session provided an overview of financing and access to capital issues that have long impacted small business owners of color and delved into some of the more recent solutions and practices that have been implemented to address this long-standing issue. The presenters were Everett Sands, CEO, Lendistry, and Kersy Azócar, CEO, Balance Consulting Group.
Small Business Ownership as Household and Community Wealth Building, October 28, 2021. This class will provide an overview of frameworks of entrepreneurship programs, small business technical assistance and supports, procurement and minority certification programs, and models that support ownership of assets that lead to wealth creation. The presenters will dig into how such programs assist entrepreneurs in building wealth for their families and communities as well as provide lessons learned about the risks of entrepreneurship and small business ownership and how to avoid falling into indebtedness and wealth loss. The speakers were Lomax R. Campbell, Director, Mayor's Office of Community Wealth Building, City of Rochester and Lenin Agudo, Director, Widener Small Business Development Center.
Supporting Transitions from Sole Proprietorships to Community Employers, November 4, 2021. Moving from being a sole proprietor to being a community employer is one of the biggest leaps an entrepreneur can make. This session uncovered some of the most common challenges faced by small business owners in crossing this threshold and highlight programs and supports that have helped businesses to be successful in growing from a "solopreneur" to an employer. The presenters, J. Jean Horstman of StepBack Collaborative and Nester Torres of Myriagon Consulting Group, provided details and examples of models that assist small businesses in providing employment opportunities to community residents.
Building Equitable and Sustainable Local Economies, November 18, 2021. Small business owners of color are the backbone of equitable and sustainable local economies. In order to ensure that businesses can start, grow, and thrive in local communities, investment and attention needs to be directed toward neighborhood corridors and commercial centers. This session highlighted the common challenges faced by commercial areas in local communities and dug into programs that support equitable communities and local economies. The presenters, James Johnson-Piett of Urbane Development and Leon Caldwell of Ujima Developers, provided details on the successes and challenges of such programs and described examples where targeted investments have led to equitable local economies.
Questions about this year's program or interested in joining the 2022 cohort? Connect with Ali Shott and Sloane Kaiser at FRBP.ROC.Local@phil.frb.org.