Today, everything from going to school, to finding a job, to running a small business, can be done online.
Digital inclusion — having access to digital devices, high-speed broadband, and basic digital skills — is increasingly important, particularly as the COVID-19 pandemic supercharged how people use technology to connect to each other and to their jobs.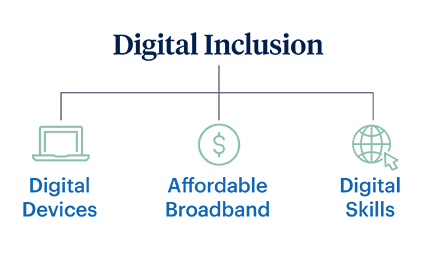 Yet in some of the nation's less populated or low-income communities, these digital connections are challenging.
Across Pennsylvania, for example, 10 percent of households, or 533,575 homes, do not have a computer or access to a data-enabled smartphone, according to an analysis by the Philadelphia Fed. In some locations, the number is even higher.
Estimates from the 2020 American Community Survey put at-home access to digital devices, including computers, tablets, and smartphones, between 60 and 80 percent in some Philadelphia neighborhoods. Prior research from the Philadelphia Fed found a 27-percentage-point difference in labor force participation rates between workers with and without a broadband-enabled computer in Philadelphia County, based on 2014–2018 data.
"The reality is that not being able to, or not knowing how to, access the internet affects the economic and social well-being of people," said Ashley Putnam, director of the Philadelphia Fed's Economic & Growth Mobility Project. "Most employment applications are online today, so this makes accessing, and sometimes even maintaining a job almost impossible if you can't get online."
Prioritizing Inclusion
A Research in Action Lab led by the Philadelphia Fed has been exploring ways to narrow the digital divide in Pennsylvania since 2020. Partners from all corners of the state have come together — from nonprofits working to increase digital literacy within communities, to leaders making decisions on how to plan their digital infrastructure budgets, to those teaching basic computer skills in community centers and libraries. Together, they have examined where gaps in device and broadband access exist and outlined strategies to address those disparities.
In 2021, the Infrastructure Investment and Jobs Act allocated more than $42 billion for states to increase access to broadband and digital devices. States can also tap into a $60 million State Digital Equity Planning Grant Program to fund research and outreach activities to ensure all residents' needs are met equitably. In February 2022, Pennsylvania created a statewide Broadband Development Authority to oversee the federal funding and to coordinate broadband expansion projects across the state.
Nationally, the Federal Reserve System's Digital Equity Working Group, the National Telecommunications and Information Administration, and the National Digital Inclusion Alliance (NDIA) have been working together to help state leaders as they build plans to access this funding. To provide capacity building and connect digital equity leaders, Federal Reserve Banks across the country hosted workshops facilitated by NDIA.
"Reserve Banks have deep roots in the regions we serve and expertise in community outreach, making us an ideal choice to host these sessions," said Putnam. The workshops provided opportunities for state leaders and local officials to meet and discuss their region's challenges and to work together to align efforts.
A convening last fall strengthened the Research in Action Lab's work in Pennsylvania by bringing together the state's Broadband Authority, NDIA, Philadelphia's Digital Literacy Alliance, and several other digital equity plan administering entities from Delaware, New Jersey, and Pennsylvania for an interactive training. Their focus was on how to create integrated, inclusive digital equity plans, and among the key topics for discussion was how to reach underserved communities and teach digital skills.
For Brandon Carson, executive director of the Pennsylvania Broadband Development Authority, device access and education are both critical. "We need to make sure people have the skills and tools to participate in a world that is fast becoming digital," Carson said. "Digital access should not depend on where you live or how much income you make."
Expanding Digital Tools
The digital divide across counties, even neighborhoods, in Pennsylvania can be significant. Many parts of the state are sprawling rural communities, where increasingly, the older adult population is growing. In these locations, Philadelphia Fed research shows, digital connections are less common.
Using 2016–2020 American Community Survey data, Philadelphia Fed researchers found that Pennsylvania counties with lower rates of device access tended to be less populated. Counties such as Juniata, Mifflin, Forest, and Bedford, which all have populations under 50,000 residents, were among those with lower rates of device access. Several counties hovered between 81 and 84 percent of households having one or more computing devices in the home. And many of the counties with lower access rates also had lower median household incomes than counties with higher access rates. A larger percentage of the population in these locations is White and/or ages 65 and older. Neighborhoods in more densely populated counties with lower device access also tended to have lower median household incomes. But these locations also had greater percentages of people of color and higher rates of people with disabilities.
The analysis also found that many counties in Pennsylvania with high percentages of households with device access through a smartphone alone also had lower rates of overall device access. In Lehigh County, for example, overall device access ranged anywhere from 73 percent to 98 percent. Yet across the county, nearly 8 percent of households relied only on a smartphone, just over 1 percent owned only a tablet, and almost 9 percent noted not having any digital devices in the home.
Carson notes that affording a monthly broadband subscription is one aspect of digital access, but there are also additional devices and access issues to consider. "Items such as modems, routers, or just having the right or enough devices in your home to meet your needs; all of those items need to be part of the discussion when we're talking about devices and access," he said. Particularly in rural communities where strong signals can be sporadic or devices may be older or outdated, Carson points to the technical support and home-based infrastructure that are needed to bring consumers online at speeds that meet their needs. There are options to consider, including expanding computer recycling and refurbishing programs or providing local hubs where community members can easily access a support person for updates, software, tools, or other device needs.
"The key takeaway is that not everyone has access to the same technology, which creates inequity among communities," said Putnam. "As we enter a more digitally driven economy, we need to ensure everyone is equipped with skills and up-to-date devices to participate fully."
Teaching Digital Skills
"Access is certainly important, but digital literacy and skills are also crucial components of digital equity," said Juliet Fink Yates, digital inclusion manager in the City of Philadelphia's Office of Innovation & Technology. "In order to really make digital tools accessible to everyone, we must also consider the education and training needs of each individual, and the language or accessibility barriers we need to overcome to help people use technology effectively in their lives. In some communities, it's not as simple as running more lines or providing a device."
Philadelphia's Digital Literacy Alliance (DLA) is a coalition of partners from government, nonprofits, local companies, universities, and others that are focused on ways to tackle an increasing digital divide in the city. Some of their efforts have included funding Digital Navigator Helplines, providing technical training for seniors, and forging creative partnerships with local nonprofits and health-care providers to reach marginalized and underserved communities. The DLA brought these ideas and more to the digital equity planning workshop, where leaders discussed how best to allocate funding for digital equity plans at the state and local levels.
Fink Yates emphasized the importance of a multifaceted approach to state digital equity plans that considers wide-ranging needs. "Literacy proficiency in some communities, accessibility for residents with disabilities, ongoing training, and device access that best suits residents' needs, such as tablets and home computers, are just a few examples," she noted.
There is also the aspect of how to ensure the digital equity plans outlined today will keep pace with tomorrow's technology needs. Planners say ongoing collaboration and communication are key. Several information-sharing workshops are slated for later this year, including sessions with other Reserve Banks and digital equity experts across the U.S.
"At the end of all of this planning is a very significant investment in our future, both at the state and national levels," said Carson. "It's imperative that we thoroughly examine the barriers to digital inclusion for both individuals and communities, and to explore all the potential opportunities and solutions. We know that technology will continue to drive us forward; it's our job to make sure we don't leave anyone behind."
The views expressed here are solely those of the authors and do not necessarily reflect the views of the Federal Reserve Bank of Philadelphia or the Federal Reserve System.