This event, to be held September 21 to 23, 2016, at the Hilton Philadelphia at Penn's Landing, will highlight strategies to create places of opportunity, develop the local workforce for a global marketplace, and provide wealth and opportunity inclusively to all segments of the population. The conference is expected to draw about 500 community developers, planners, government leaders, bankers, researchers, and foundation representatives from across the country for these critical conversations.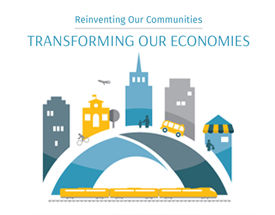 The conference will feature some of the nation's leading thinkers who will share their insights on how to develop an inclusive, transformative economy; on how anchor institutions can catalyze change in the neighborhoods that surround them; and on how mayors believe inclusive growth can be achieved. Several Federal Reserve Bank presidents will also discuss the Federal Reserve's role in the nation's communities.
Concurrent workshops will examine a range of topics, including:
tackling the challenges of extreme poverty for low-income households;
addressing gentrification and neighborhood change;
training and preparing workers for "opportunity occupations" and jobs that can support economic mobility;
supporting disconnected youth to successfully transition after high school to employment or education;
utilizing the strength of immigrants in communities as a part of economic development strategies;
leveraging new sources of community development capital and expanding partnerships; and
bridging community development and health.
The conference will also feature learning labs on resident engagement strategies and the Community Reinvestment Act. There will also be several tours, including of the Schuylkill River trail, of locations where low-cost strategies to improve the quality of life in Philadelphia are in effect, and of Mt. Airy, one of the first intentionally integrated neighborhoods in the U.S.
The Reinventing Our Communities conference is sponsored by the Federal Reserve Bank of Philadelphia. Cosponsors include the Penn Institute for Urban Research at the University of Pennsylvania and the Federal Reserve Banks of Atlanta, Boston, Cleveland, Minneapolis, New York, Richmond, and St. Louis.
See the full agenda on the conference website at www.philadelphiafed.org/roc2016 and register now. To follow us on Twitter and get conference updates, use @philfedcomdev #Reinvent2016.
For information, contact Nathaniel Borek at nathaniel.borek@phil.frb.org.