This article summarizes some key features of these intentional integration efforts in Mt. Airy and contains current perspectives from two residents.
Mt. Airy, founded in 1683 by Dutch Mennonites, is located in the northwest section of Philadelphia adjacent to Fairmount Park, situated between more affluent Chestnut Hill to the west and less affluent Germantown to the east. A community with a wide range of housing stock, Mt. Airy has a long history of tolerance and activism.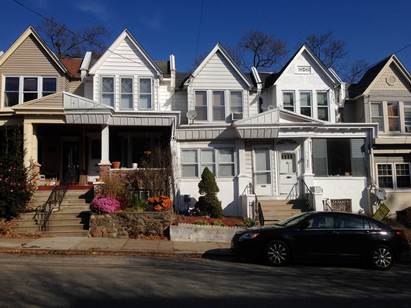 Photo credit: Lise Funderburg.
In the 1950s and 1960s, African Americans faced widespread hostility and resistance from white residents, real estate agents, and city officials when they tried to buy homes in white neighborhoods in Northeastern and Midwestern cities. In contrast, in Mt. Airy as well as Shaker Heights, OH, and Oak Park, IL, middle-class white homeowners and some renters, motivated by the goals of racial justice following World War II, tried to intentionally integrate their communities, welcome African Americans, and allay the fears of white residents.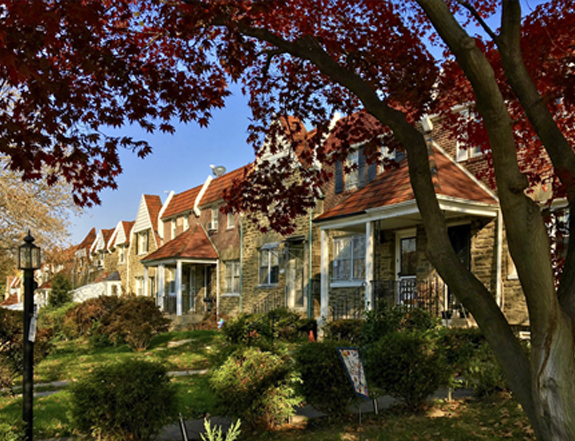 Photo credit: Bradley Maule, Mt. Airy USA.
Abigail Perkiss, assistant professor of history at Kean University, describes these intentional integration efforts in Making Good Neighbors: Civil Rights, Liberalism, and Integration in Postwar Philadelphia,2 which was published in 2014.3 Perkiss grew up in Mt. Airy, left with her family at an early age, and returned later.
The passages from Perkiss' book quoted here provide some understanding of the intentional integration efforts that began in the mid-1950s:

"Around the country, small groups of homeowners opted not to give in to the belief that racial transition necessarily brought about neighborhood decline. Instead of meeting would-be black buyers with antagonism or acquiescing to the efforts of blockbusting realtors, these residents, largely white and middle class, decided to welcome their new neighbors." (page 2)

"Beginning with a coordinated pledge in the mid-1950s, homeowners in Mt. Airy waged a community-wide battle toward intentional integration. Through innovative real-estate efforts, creative marketing techniques, religious activism, and institutional partnerships, residents worked to preserve the viability of their community. By replacing residential segregation with residential integration, they sought to disrupt a system of separation and infuse their day-to-day lives with the experience of interracial living." (pages 2–3)
Interfaith clergy, including a rabbi at the Germantown Jewish Center, addressed racial change in the community and helped form the nonprofit West Mt. Airy Neighbors (WMAN) association in 1954. Later, other nonprofit organizations formed to bring residents together in the arts and to represent East Mt. Airy.
Perkiss' book also describes the difficulty of maintaining racial balance in Mt. Airy's public schools amid changes in public school funding and policies, including redistricting. Other issues described in the book include rising home values in the late 1980s and periodic problems related to crime, drugs, and policing.
Perkiss wrote that Mt. Airy continues to be one of Philadelphia's most economically stable and diverse neighborhoods and found that, by the late 1970s, the prevailing focus in Mt. Airy had shifted from racial integration toward a more generalized ethos of diversity.4 Integration, which had been a major part of the civil rights movement in the 1950s and 1960s, had also fallen in disfavor for failing to address continuing inequality in employment, housing, and education.
In the epilogue of her book, she concluded:
"The neighborhood was able to effect sustainable change because it developed a sense of institutional accountability through meaningful partnerships, both within the community and outside of it. The creation of West Mt. Airy Neighbors and the relationships between WMAN and governmental agencies throughout the city created a powerful structure for change-making within the neighborhood. ...
"Mt. Airy's efforts toward intentional integration were a part of a small movement around the country to create stable interracial communities. These neighborhoods are not utopias, nor are they blueprints for achieved racial justice. ... [T]hroughout the latter half of the twentieth century, community leaders in West Mt. Airy developed and honed a model of neighborhood organizing that, when deployed effectively, fostered both racial tolerance and economic viability. The innovation of grassroots liberalism, the recognition of the bilateral need for structural accountability and individual action and responsibility, allowed residents to sustain a stable, open community in the midst of vast political, economic, and cultural change." (pages 172–173)
The Philadelphia Fed's Community Development Studies & Education Department asked several residents to respond to questions about the legacy of intentional integration in Mt. Airy and the current state of integration there. The responses of two Mt. Airy residents appear here.
Lise Funderburg is a writer and editor, the author of two books and a contributor to numerous anthologies, and a lecturer in creative writing at the University of Pennsylvania and in the Rutgers University–Camden master of fine arts program.
Tia Mathisen is the executive director of the Mt. Airy Business Improvement District, an organization committed to supporting businesses along the Germantown Avenue commercial corridor through beautification and improvement projects.
What are the accomplishments of the intentional integration strategy that was initiated about 50 years ago to welcome African Americans to Mt. Airy?
Lise Funderburg: "Probably the best way to appreciate Mt. Airy's integration accomplishments over the last half-century is by contrast. Head as little as a mile or two, in pretty much any direction, outside its borders, and you're likely to find patterns of residential and relational segregation that continue to dominate our greater metropolitan region. Few communities in Philadelphia, or indeed, nationwide, have offered the enduring, stable opportunities that Mt. Airy has for people from different racial, ethnic, and socioeconomic groups to experience each other as equals and as equally invested neighbors. Here, otherness is more likely to be embraced (or ignored) than to be seen as a cause for fear or aversion. In the generations of kids I have watched grow up here, there's an openness toward others and a privileging of humanity as a first point of connection that is tremendously encouraging to see."
Tia Mathisen: "The accomplishments of the intentional integration strategy can be seen daily by simply walking around the Mt. Airy community. We have a community that is home to many African Americans and Caucasian Americans, who live, work, and play together daily. However, these accomplishments provide their own set of challenges. Oftentimes, Caucasian residents can assume because they live in such a "progressive" community that they are immune to symptoms of white privilege and they often speak on behalf of their African American neighbors without inviting said neighbor into the conversation. Leaving African Americans to feel as though they are not a part of the greater conversation being held concerning the community where they live."
What are the current issues and challenges in maintaining Mt. Airy as an integrated community?
Lise Funderburg: "One of the ongoing challenges is that the more popular and successful a mixed neighborhood becomes — meaning that increasing numbers of people begin to seek it out specifically for its diversity — the higher housing values and property taxes rise. After a certain point, diversity is at risk of being priced out. In Mt. Airy, a key to stability has been the variety in housing stock, from small two-story rows to stately mansions and sprawling midcentury gems, all within blocks or feet from each other. This has helped us retain a degree of socioeconomic integration, which, due to historic patterns of racially based economic inequity in the U.S., also supports broader access to that housing stock across racial groups.
"On another front, there is the fact that even the most well-intended communities can't shut out the larger realities of the country, entrenched biases, and historic inequities the reach far beyond real estate. These divides filter into Mt. Airy in everything from enrollment patterns at our two K–8 public schools that don't resemble the neighborhood population to a majority of our businesses and restaurants being white-owned."
Tia Mathisen: "A current issue for Mt. Airy is deciding what type of social community we want to be today. If we want to be one, and what that means and how that looks. Mt. Airy has to decide if we continue to strive for diversity, how diverse do we become? Do we only remain diverse based on the color of our skin? Or do we fight for socioeconomic diversity in the community as well?
"We also face the issue of pushing beyond the politely constructed neighborly conversation into that of actually knowing one's neighbor, so that relationships can build and grow in our community authentically."
Can you share your insights on how racial and ethnic integration can be encouraged and supported in other communities?
Lise Funderburg: "I wish I had some magical strategy. It takes a lot of effort and goodwill on the part of all community members to seek out individual and collective opportunities to bridge the entrenched divides. It also requires a willingness to be re-educated about assumptions of others, to step outside one's comfort zone at times. Programmatically, realtors, bankers, educators, restaurateurs, and service providers can all be mindful of serving the broad community, and honor that by reflecting that breadth in all forms of outreach, staffing, content, and advertising."
Tia Mathisen: "I feel it's vitally important for community change makers and leaders to be certain that everyone has a seat at the decision table. If the people sitting at your table all look or think the same, go out into your community and recruit people who represent your whole community and don't stop until you are surrounded by several voices, with varying needs and opinions, who all share the common goal of making their community a wonderful place to live. I do believe that is the goal here in Mt. Airy."
Recommended Resources
Kathy Boccella, "Racism in Delaware County: A Story of Hatred and Courage," NBC10 Philadelphia, NBCUniversal Media, October 21, 2013; available at www.nbcphiladelphia.com/news/local/Racism-Delaware-County-The-Hatred-and-The-Courage-229372081.html.
Barbara Ferman, Theresa Singleton, Don DeMarco, "Chapter 3: West Mount Airy, Philadelphia," Cityscape, 4:2 (1998), pp. 29–59; available at www.huduser.gov/periodicals/cityscpe/vol4num2/ch3.pdf.
Lise Funderburg, "Our Town," O, the Oprah Magazine, April 2006; available at www.lisefunderburg.com/writ/Fourtown.html.
Jayne M. Pardys, "The Encounters of Racial Integration in West Mount Airy, Philadelphia and the Role of Germantown Jewish Centre" (documentary), 2016 National History Day State Competition; available at www.youtube.com/watch?v=0dyhhXqb4nw.
Abigail Perkiss, Making Good Neighbors: Civil Rights, Liberalism, and Integration in Postwar Philadelphia. Ithaca, NY: Cornell University Press, 2014.
The views expressed here do not necessarily represent the views of the Federal Reserve Bank of Philadelphia or the Federal Reserve System.
[1]The tour was organized with Mt. Airy USA. Sarah Zelner, a Ph.D. candidate in sociology at the University of Pennsylvania, shared highlights of her dissertation on Mt. Airy.
[2]Abigail Perkiss, Making Good Neighbors: Civil Rights, Liberalism, and Integration in Postwar Philadelphia. Ithaca: Cornell University Press, 2014.
[3]There are western and eastern sections of the Mt. Airy community. Perkiss' book focuses on West Mt. Airy, where the intentional integration effort took place.
[4]Abigail Perkiss, Making Good Neighbors: Civil Rights, Liberalism, and Integration in Postwar Philadelphia. Ithaca: Cornell University Press, 2014, p. 146.