This event focused on how racism in the criminal justice system impacts the economy. The criminal justice system has frequently failed to live up to its name, with damaging social and economic consequences. Keynote speakers examined the origins and contemporary context of the U.S. criminal legal system, followed by thought leaders and practitioners who discussed strategies to address the system's disparate impacts on the economic security of indigenous people and communities of color. The session explored how overrepresentation of people of color and indigenous people in the criminal legal system compromises the performance of the overall economy.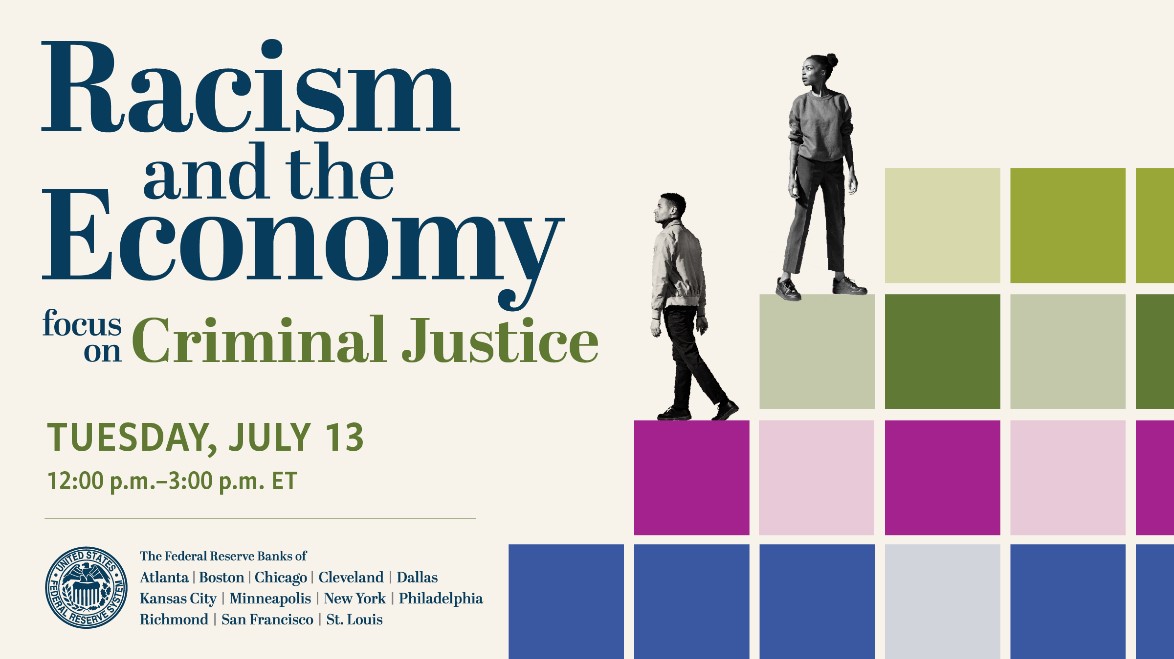 Speakers:
Chanda Smith Baker, Chief Impact Officer and Senior Vice President, Minneapolis Foundation (moderator)
Raphael Bostic, President, Federal Reserve Bank of Atlanta
Jennifer Doleac, Associate Professor of Economics, Texas A&M University
Keith Ellison, Minnesota Attorney General
Yvette Gentry, Director of Justice and Opportunity, Metro United Way
Phillip Atiba Goff, Carl I. Hovland Professor of African American Studies and Professor of Psychology, Yale University, and Co-Founder & CEO, Center for Policing Equity
Kelly Lytle Hernandez, Professor and Thomas E. Lifka Chair of History, University of California, Los Angeles, and Faculty Director of Million Dollar Hoods
Neel Kashkari, President, Federal Reserve Bank of Minneapolis
Walter Katz, Vice President of Criminal Justice, Arnold Ventures
David Muhammad, Executive Director, National Institute for Criminal Justice Reform (moderator)
Clark Neily, Senior Vice President for Legal Studies, Cato Institute
Victor Rios, Professor and Associate Dean of Social Sciences, University of California, Santa Barbara
Rachael Rollins, Suffolk County District Attorney
Eric Rosengren, President, Federal Reserve Bank of Boston
Nicholas Turner, President, Vera Institute of Justice
Kevin Washburn, Dean, University of Iowa College of Law
Andrea Young, Executive Director, ACLU of Georgia
Racism forms the foundation of inequality in our society. It limits opportunity for people of color and threatens the health of our economy. While the global pandemic has intensified racial and economic disparities, the killing of George Floyd in Minneapolis has galvanized people from all walks of life to address the systems and structures that enable and perpetuate these outcomes.
Hosted by all 12 District Banks of the U.S. Federal Reserve System, "Racism and the Economy" is a virtual series that brings together community, business, and academic leaders to examine the economic impact of racism and advance bold ideas and concrete actions to achieve an economy that makes opportunity available to everyone.