Leading with Our Values
Our Bank values of Collaborate, Innovate, and Be Open are embodied in all that we do, from how we approach our mission of serving the people in the Third District to our Bank culture. Simply put, our values define our success.
Collaboration is central to our mission to support a strong economy. We're committed to forging strong partnerships that allow us to better understand how the economy is impacting people's lives. Across the Bank, this includes building cross-functional teams focused on researching the increasing complexity of our regional economy, and more broadly, expanding how we engage our District's residents and community partners.
Approaching our work with creativity and innovation is more important than ever. In July 2022, we launched our first apprenticeship program in our Information Technology Services (ITS) Department. This state-certified apprenticeship not only gives workers who may not have a four-year degree an onramp to an IT career, but also provides them with a great opportunity to begin a career at the Fed. We're excited to see our apprentices' progress and hope to expand this effort to other areas of the Bank in the future. Additionally, our first-ever completely asynchronous online Keys to Financial Success program went live in 2022, giving more high school teachers access to new ways to teach — and equip their students with — personal finance skills.
We also came back together in the Bank in 2022. Many of our employees transitioned to a new hybrid work model, which required all of us — leaders included — to be open to learning new skills and different ways of working together. We met this evolution in our workplace with a renewed commitment to foster a diverse, equitable, and inclusive work environment. We seized opportunities to connect in person across the Bank and to grow our network of employee resource groups (ERGs) to include a new ERG focused on supporting employees with disabilities. We've also sharpened our focus on transparency in career pathways and pay equity.
An organization's values say a lot about its culture, but how these values are embedded and upheld when challenges arise often says a lot more. I'm incredibly proud of the work that our dedicated employees have accomplished, particularly in these extraordinary times. I'm grateful to those here who bring these values to life every day and carry our mission forward to foster a robust and inclusive economy.
Sincerely,
James D. Narron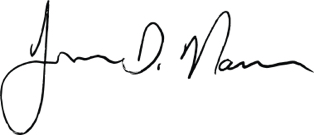 The views expressed here are solely those of the author and do not necessarily reflect the views of the Federal Reserve Bank of Philadelphia or the Federal Reserve System.