The Third District is a remarkably diverse swath of the United States, encompassing large cities, small towns, beaches, farms, factories, and everything in between. It is also home to a notably diverse set of industries and people, with some 169 native languages spoken by students and their families in the Philadelphia public school system alone.
To fulfill our mandate and serve the people of the Third District, the Federal Reserve Bank of Philadelphia embraces diversity as a core value. It's not just the right thing to do – it makes us a more responsive and effective Reserve Bank.
Our Bank's focus on diversity was readily apparent throughout our work in 2021, which you'll read more about in this report. A major economic player ourselves, the Philadelphia Fed continued to expand our pool of diverse suppliers. An independently conducted pay equity study found no systemic pay inequities due to race, ethnicity, or gender. All of us undertook unconscious bias training, ensuring that Bank employees can bring their true selves to work. And our 10th annual Diversity, Equity, and Inclusion Forum, hosted virtually, drew a record number of attendees from both within and beyond the Federal Reserve System.
Just as the Third District boasts a diverse economy, even within the Federal Reserve Bank of Philadelphia, there is a vast array of different jobs and functions. And so while the majority of Bank staff worked from home through 2021, the Bank's essential onsite staff continued to work in person each day during the pandemic, a remarkable feat of fortitude and selflessness we all feel remarkable gratitude for. I – and all of us at the Bank – can't thank them enough.
And no matter where we worked this year, we did it more efficiently and productively, thanks to the successful launch of Connector, a game-changing enterprise software that is our new virtual hub for procurement, purchasing, human resources, financial planning, and more.
In sum, in 2021, progress was a central theme at the Federal Reserve Bank of Philadelphia. I expect that to continue this year, as we work tirelessly to better serve the people of the Third District and to foster an economy where all people can participate and excel.
Sincerely,
James D. Narron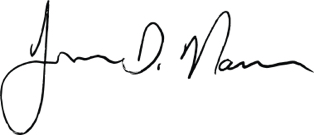 The views expressed here are solely those of the author and do not necessarily reflect the views of the Federal Reserve Bank of Philadelphia or the Federal Reserve System.

Pictured above is Jim Thorpe, Pennsylvania.